Compare the 2023 Genesis GV70 and GV80

Battle of the Luxury SUVs
Genesis has been on a roll lately with their various premium offerings without the hard-hitting price tags of European brands (brands, to be honest, that Genesis has surpassed in many aspects). For the SUV segment, Genesis offers the GV70 and the GV80, which provide excellent value and performance. However, the various trims and models might get confusing for new shoppers, especially when looking at two vehicles in the same class. In this post, we will go over the similarities and differences between the GV siblings so that you can decide which luxury SUV is the best fit for your needs.
Performance and Driveability: Closer Than You Think
Performance specs are actually quite close between the GV70 and GV80. Both models come standard with AWD and offer two engine options; a 2.5-liter turbocharged inline-4  capable of 300 horsepower and 311 lb-ft of torque, while higher trims enjoy a 3.5-liter twin-turbocharged V6, delivering a robust 375 horsepower and 391 lb-ft of torque. Even though both models share the same engine, they do not share the same fuel efficiency. The compact GV70 provides 22/28 mpg when powered by the 2.5-liter while the heavier, mid-sized GV80 takes a hit at 20/24 mpg. When given the 3.5-liter, the GV70 goes a frugal 19/24 mpg while the GV80; is 18/23 mpg.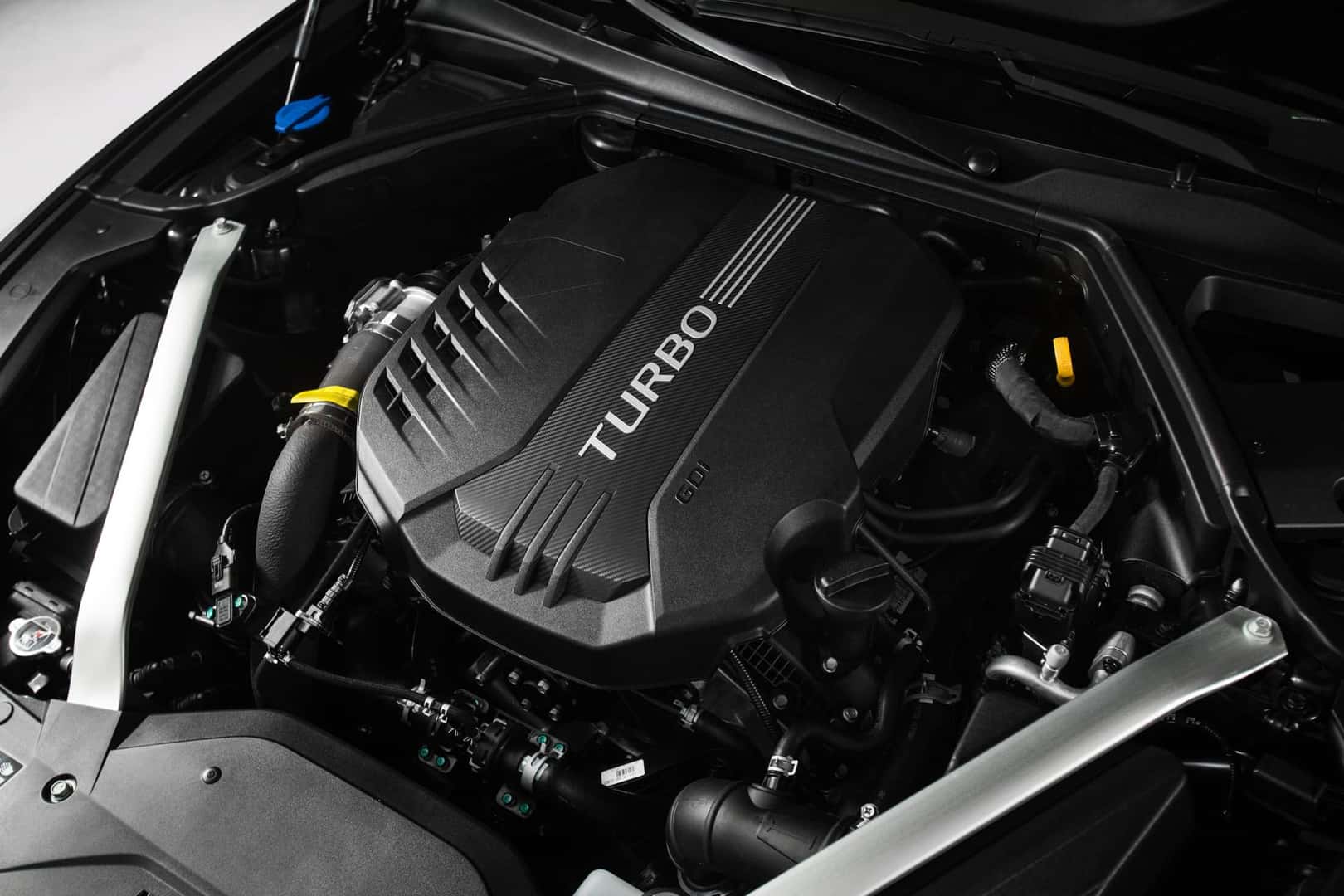 The driving experience of both Genesis SUVs is also quite similar. Both vehicles enjoy plenty of boost from the installed turbos and provide an exhilarating yet smooth experience around corners, highways, and well, anywhere. The driving experience is slightly more confident in the GV80 as it's 3 inches taller than the GV70, but also feels slightly slower due to its increased weight. Speaking of speed, the GV70 goes from 0-60 in  5.6 seconds using the 2.5-liter, while the more powerful V6 made an impressive 4.9 seconds. The GV80 on the other hand, made a 0-60 time of 6.1 seconds with the 2.5-liter, and 6.1 seconds with the V6.
Premium Exterior and Interiors
When it comes to the exterior design, both the GV70 and GV80 are undoubtedly pure Genesis vehicles. Exuding style, confidence, and grace, both the GV70 and GV80 sport the iconic Genesis Grille, dual headlight design, and sensuous lines and curves that envelope the whole chassis. Neither vehicles outshine the other, however, the larger GV80 has a larger presence due to its increased size. In other words, the smaller and lower stance of the GV70 gives a sense of sleek modernity while the GV80 gives off a sense of confident supremacy. The main differences, however, appear in the interior.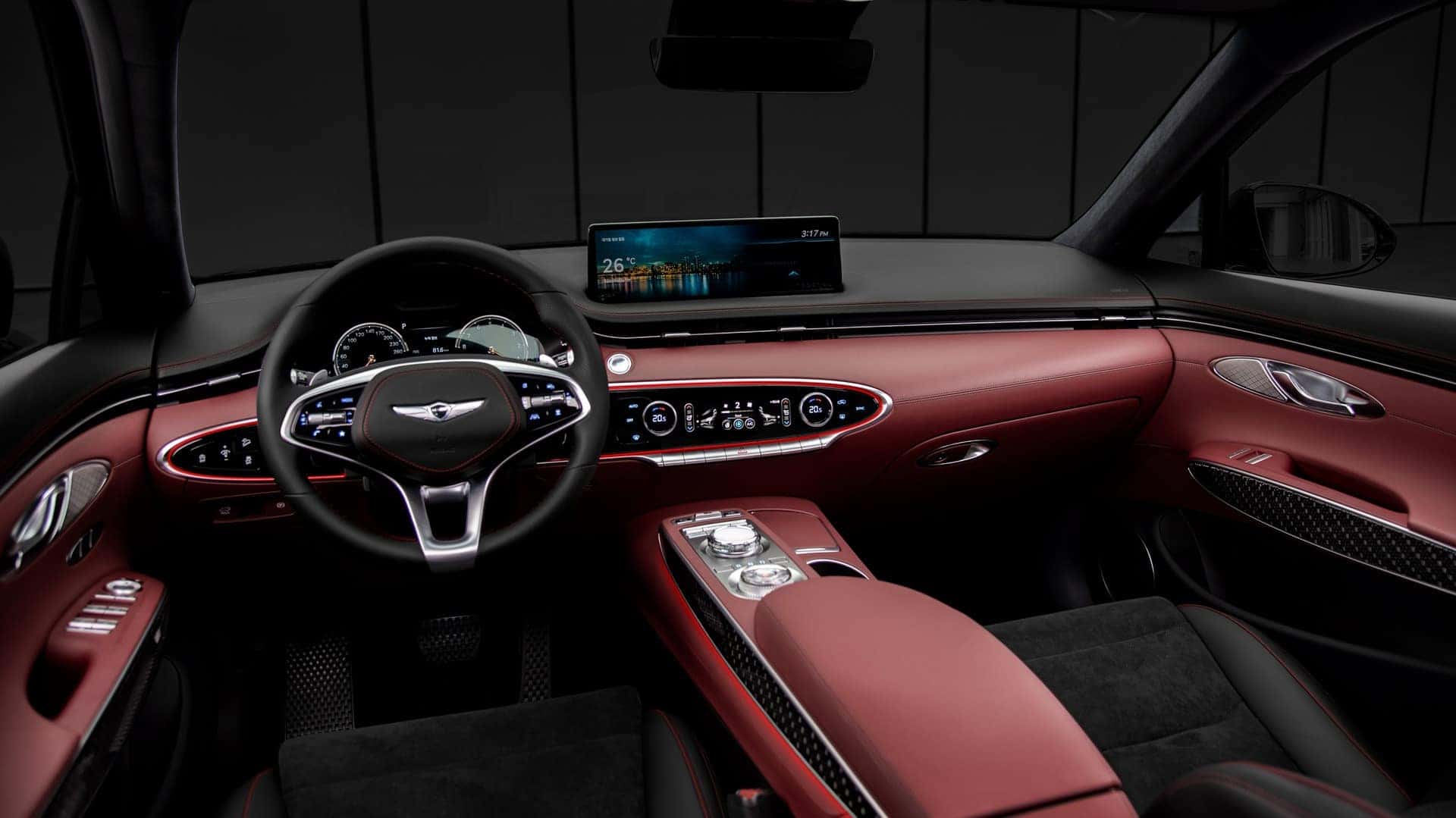 The main difference in the interior, is simply, space.  The GV70 provides less space than the GV80; with a total of 56.86 ft³ for cargo, 41.3 inches of legroom for front passengers, and 37.2 inches for rear passengers. The GV80 offers significantly more space, with 84 ft³ for cargo, 41.6 inches of legroom for front passengers, and 38.7 inches for rear passengers. For interior features, both vehicles offer the same features, with some differences. For example, both vehicles have Wireless Phone Charging, Heated and Power-ADjustable Steering Wheels, Dual-Zone Temperature Control, 12-Way Power Driver Seats, Ventilated and Heated Front Seats, and more. However, the lower-cost GV70 also provides some features that are not offered in the higher-priced GV80 such as the Fingerprint Authentication System and Smart Engine Oil Monitoring System. For a full breakdown of spec differences, check out this link. Both vehicles also offer premium leather and other high-end material options for you to customize your GV70 or GV80 to your tastes.
Extensive Safety Features
The GV70 and GV80 mostly share the same safety and driver assist features. These features include:
Emergency Stop Signal
Rear Center 3-point Seatbelt
Lane Keeping Assist
Vibration Warning Steering Wheel
High Beam Assist
Driver Attention Warning
Forward Collision-avoidance Assist (Car, Pedestrian, Cyclist, Junction turning)
Blind-Spot Collision-Avoidance Assist
Rear Cross-Traffic Collision-Avoidance Assist
Rear Guide Lamp
Safe Exit Assist
Rear Occupant Alert
The only difference is that the GV80 comes with 10 airbags while the GV70 comes with 8. Driver Assist Features include:
Power Child lock
Rain Sensor
Highway Driving Assist
Smart Cruise Control wtih Stop &G0
 Navigation-based Smart Cruise Control (Safe, Curve)
Lane Following Assist
Rear View Monitor (with parking guide)
Electronic Parking Brake (with auto hold)
Power Safety Windows (Front/Rear Seat)
Forward/Reverse Parking Distance Warning
Smart Power Tailgate
Rear Seat Manual Door Curtain
The main difference is that the GV70 offers a Smart Engine Oil Life Monitoring System.
Concluding Thoughts
At the end of the day, it boils down to personal preference. If you're regulary hauling multiple passengers with significant cargo, the onbious choice is the 2023 Genesis GV80. However, if you desire a compact SUV with a more sporty stance with peppier driving charactersitics, the 2023 Gensis GV70 is the way to go. But whichever vehicle you choose, you are guaranteed to have the ultimate luxury and driving experience in any Genesis SUV.
Check out our 2023 Genesis Inventory at our Genesis of Springfield location! Come in and schedule a test drive today!
Also check out our monthly deals for the GV70 and GV80 below!
We are currently updating our monthly offers. Please check back shortly for updates.
In the meantime, here are some links that you might find helpful:
We are currently updating our monthly offers. Please check back shortly for updates.
In the meantime, here are some links that you might find helpful: